Portfolio
Artista multidisciplinare di nazionalità complessa, trasforma instancabilmente il vissuto in forma artistica. L'essere al mondo è il suo materiale, la verbalizzazione e comunicazione di quello che passa per la testa è la grande sfida, la magia delle opere realizzate il grande rebus che di nuovo attraverso la parola si sistema.
Antoanetta Marinov distribuisce bacchette magiche dal 2008 focalizzando l'attenzione sulla meraviglia del guardare e sulla forza dell'umano di operare cambiamenti. Cammina da sposa dal 2021 per dire sì certo alla vita. Augura ogni bene ai passanti, dal 2015, in cambio di quasi niente. Elabora un giornale di studio dal 2021 che contenga le immagini ed i testi di quello che offre e mette in ballo tra la gente.
Multidisciplinary artist of complex nationality, she tirelessly transforms experience into artistic form. Being-in-the-world is her material, the verbalization and communication of what goes through the mind is the great challenge, the magic of the realized works the great rebus that again through words settles.
Antoanetta Marinov has been handing out magic wands since 2008 focusing on the wonder of looking and the power of the human to enact change. She has been walking as a bride since 2021 to say yes indeed to life. She has been wishing passersby all the best since 2015 in exchange for almost nothing. She has been developing a study journal since 2021 that contains the images and texts of what she offers and puts out among people.
"Sì lo voglio". You left, I stay here and marry this life. As a bride, I go to bars, bookstores, drink coffee, catch subways and buses. Everyday life goes extra-ordinarily. I do as if and people rejoice with me for a moment."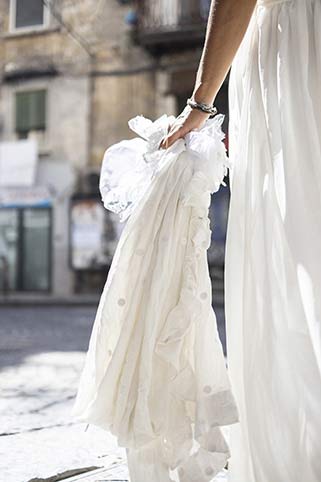 "If you have a wish, come to me. I'll give you your magic wand."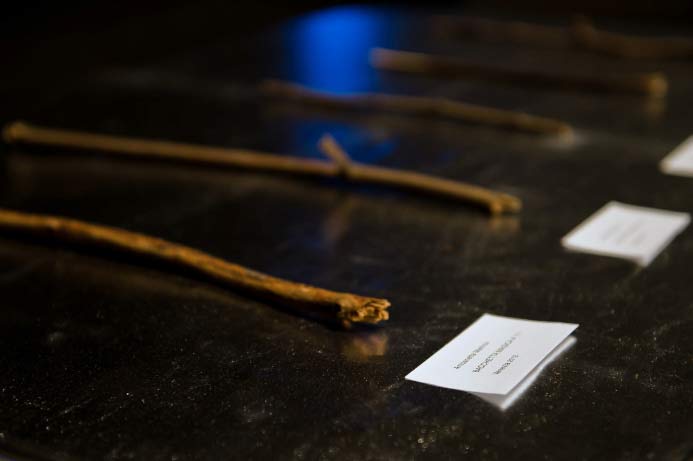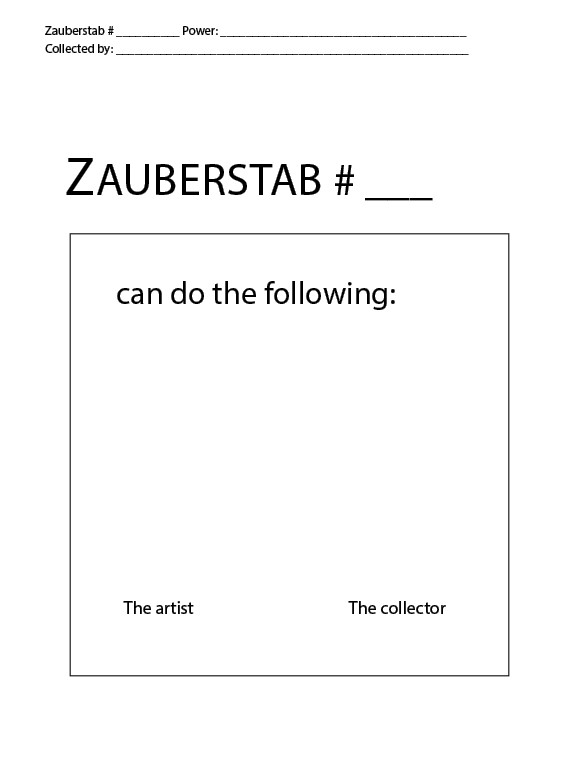 "I'll take care of the thoughts you don't like. I make them disappear."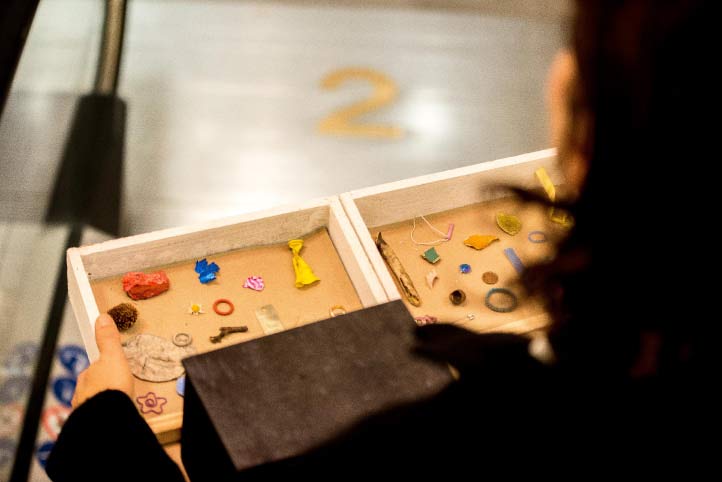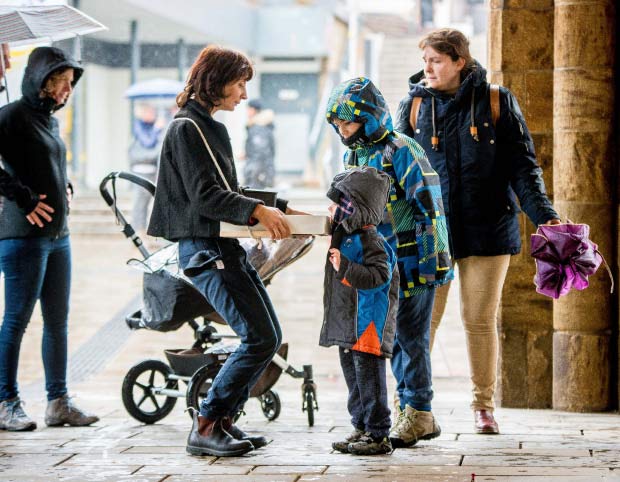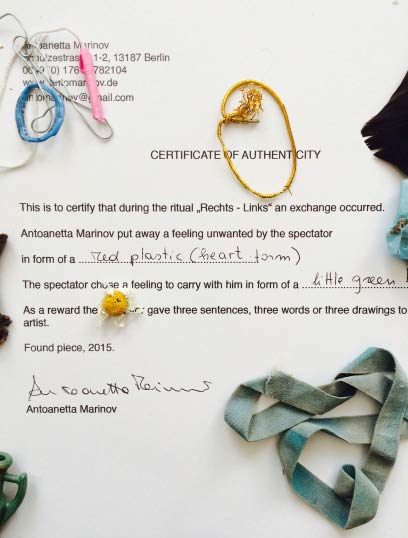 "Every fallen leaf is the promise of new germination and return. Come and collect the leaves I have gathered for you."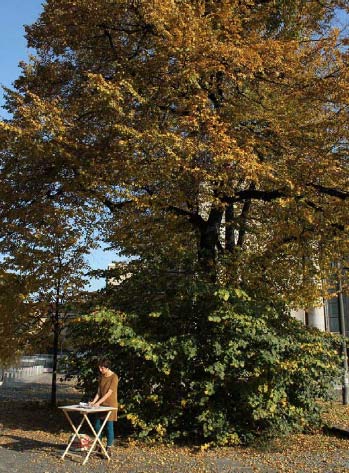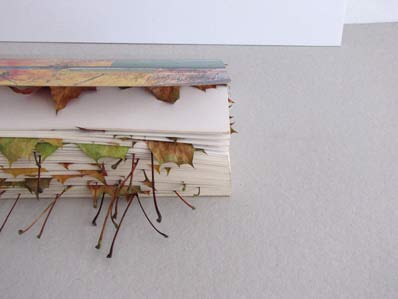 "The place says A, I say B"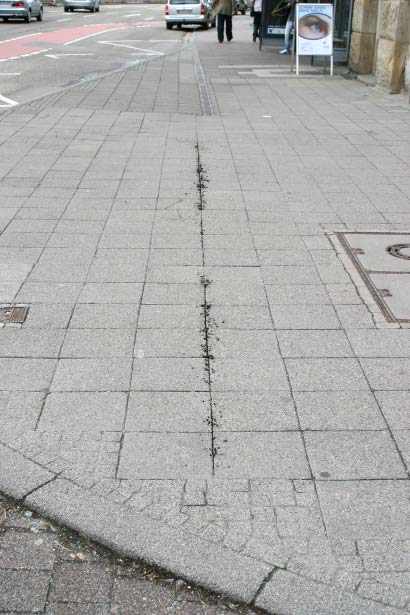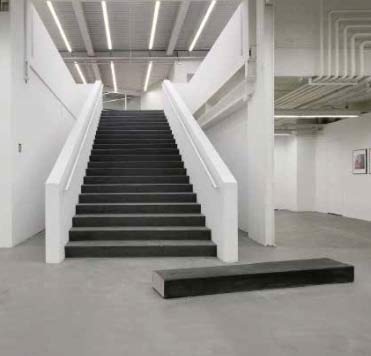 PROGETTI – JECTS – JEKTE
Collection of individual typewritten projects held in annual volumes.
14,8×21 cm, 90 loose pages in three paper folders, stamped and numbered. Since 2003.
Edition of 30, backbonebooks.
ANTOANETTA MARINOV

She is a conceptual artist and literary scholar, with curatorial activities. Works as art mediator, storyteller. She is author of artists' books.
She was born in Latina (I), is mother, lives and works in Berlin.
Studio: Wackenbergstrasse. 65, 13156 Berlin
Contact: antomarinov@gmail.com


EDUCATION

- Academy of Fine Arts Karlsruhe
Studied free visual arts and monumental painting with Ernst Caramelle 2001-2002.
Study of fine arts and painting with Leni Hoffmann 2002-2004.
Study of free visual arts and drawing with Silvia Bächli 2004-2006.
Diploma, 2006.
Master student of Silvia Bächli, 2006-2007.
- Albert-Ludwigs University of Freiburg Studies in German and American Studies, 1997-2000
. Doctoral thesis in American Studies (not completed), 2000-2001.
- Università degli Studi La Sapienza, Rome. Studies in Modern
Foreign Languages and Literatures 1991 - 1998
. MA in literature and linguistics, 1999.
- Whiteknight University, Reading (UK), Degree in English Language and Literature, 1995.


FURTHER EDUCATION

- UDK Berlin, Curating, 2022.
- Erzählkunst E.V., Berlin, "Storytelling," 2017-2020.
- Alice Salomon University of Applied Sciences
"Aesthetic Paideia - aesthetic education in preschool," 2015-2016.


PUBLIC COMMISSIONS.

- "Magic Wands in Kreuzberg," funded by FrixFonds, 2022.
- "Monday Tuesday Wednesday Thursday Friday Saturday Sunday", Berlin, funded by Bezirksamt. Freidriechshain Kreuzberg, 2021.
- Realization of the interactive work "Jeder kann ein Zeichen setzen", in Mittendrin, Berlin Neukölln, 2019.
- Interventions in Mannheim urban space , "Give and Take and the generous society", supported by Sparkasse Karlsruhe, Bürgerinitiative Mannheim and Kunsthalle Mannheim, 2016-2018.
- Aesthetic space design , "Air du Temp", Fougerette Castle, Etang sur Arroux, 2015.
- Public work: the old into the new the new into the old, Lessingsgymnasium Karlsruhe, 2009.


RECOGNITIONS AND ARTIST IN RESIDENCE (SELECTION).

- Social art award, Institute for Art and Innovation Berlin 2017.
- Scholarship and public interventions, "Stadtbesetzung", Künstlerdorf Schöppingen, 2015.
- Artist in Residence, VCCA, Richmond, 2013.
- Artist in Residence, Paris Citè International des Artes, Land Baden Württemberg, 2011.
- Artist in Residence, Halfhouse, Barcelona, 2011.
- Artist in Residence in Suomenlinna, The City of Helsinki, (FI), 2009.
- Artist in Residence, in Expoo (FI), Merian Foundation Basel, 2008.
- Graduate Scholarship of the State of Baden Württemberg, 2007.

ARTIST TALKS

"Sì lo voglio - autobiografia di un'educazione" at: Mondolibro, Berlin 2022; Casa delle Stelle, Roma 2022; MUG Museo Giannini Latina2023; Sax Art Gallery, Matera2023.
"Magic Wands," Karlsruhe Institute of Technology, Karlsruhe, 2021.
"Molti progetti e uno statement", Macro Museo Roma, 2019.
"Cerco dunque sono" Academy of Fine Arts Karlsruhe, 2018.
"Give and Take and the generous society", Kunsthalle Mannheim 2017.
"Give and Take and the generous society", Port25 and Kunstverein, Mannheim, 2017.
"Basically", artists - symposium, Kunstraum L&, Freiburg 2016.
"Back From", Kunstverein Freiburg 2009.
"Next Time it'll be 3 mt high", Tapiola Studio (FI), 2008.

SELF-CURATED EXHIBITIONS
"Open Corridor", series of studio -exhibitions, since 2021. "All is fine now yes", group exhibition, in "Meet me at the Baobab Tree", Berlin, 2021.
"Was ist schön bitte schön", group exhibition in private space, 2019.
"Commerce by artist", editions exhibition at the Australian Boschaft, 2019.
"Dearest videos", video- group exhibition at Galerija Podroom, Belgrade 2017-2018.
"The studio", series of exhibitions, 2016-2017.
"Basically" group exhibition at "Kunsthaus L6", Freiburg, 2016.
"Quasi invisibile", group exhibition - series of spatial interventions in DB Freiburg, 2004.


EXHIBITIONS (selection from the last ten years).
"Augentiere auf der Ohrenweide", group exhibition, Steinhöfel, 2023.
"Caffè sospeso", group exhibition in Rome Art Week, Rome, 2022.
"Pericolose", group exhibition , Casa del Popolo, Roma, 2022.
"ArtME", interventions in public space, MeWo Kunsthalle and Memmingen, 2021.
"The nature of desires", group exhibition, Hufingen Art Museum, 2021.
"Return", video screening at Kino Central, Berlin 2019.
"Collection for the poor collector" publication and group exhibition in Sperling, Munich. and Material ZH Zurich, 2018.
"The secret life of things", group exhibition and publication, Museum Villa Rot, 2017.
"Objects in a room", group exhibition, Kunstraum Bethanien, Berlin, 2017. "Give and Take Art", installation of the wandering display for art for free, Port 25 - Kunstverein, Mannheim, 2017. "Crosswords III," group exhibition, Jordan Seydoux Gallery, Berlin, 2016. "Equivalences," solo exhibition, Rinomina, Paris, 2016.
"Right and Left," intervention in public space, Minden, 2015. "Bits and Pieces," group exhibition, Stella A., Berlin, 2015.
"Crosswords I", Jordan Seydoux - Lage Egal, group exhibition, Berlin, 2015. "Family Chronicles", residency, group exhibition and publication Textilmuseum, Bocholt, 2014.
"How much mother", duo exhibition, Kunst im Tauthaus, Berlin, 2014.
"Wearable art", group exhibition, GADEWE, Bremen, 2014.
"Glasklar milchig," group exhibition and publication, Forum Factory, Berlin, 2013.
"All connections will be reached," group exhibition, Kreuzberg Pavillon, Berlin, 2013.
"A lanciare mandarini, non so," solo exhibition, Kunst am Balkon, Münster, 2012.